By Funmilayo
A first time visitor to the Psychiatric Hospital, Yaba, Lagos may not immediately appreciate the true relevance of the facility in helping to establish complete state of health for Nigerians over the years.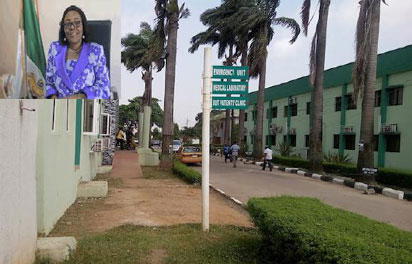 On the average, 450 people visit the hospital daily for reasons ranging from counseling services to orthodox treatment of various forms of mental illnesses. Though a standalone facility, the Psychiatric Hospital, Yaba, is complimented by at least five other government centres in Lagos State, along with a dedicated private clinic and a few telemedical platforms where psychiatric services are accessible.
Data gathered from the hospital as it commemorated its 110th anniversary in December 2017, showed that since 1999, the facility has welcomed 2.9 million people who have been seen by psychologists, psychiatrists and/or occupational therapists.  Dr Oluwayemi Ogun, Consultant Psychiatrist, Special GD I,  is the current Medical Director.
The Yaba Psychiatric Hospital has in 110 years, moved from being an abandoned spot without shelter around the Yaba Railway, to a fully-fledged 535-bed institution with an annex in Oshodi, colloquially called 'Yaba Left' because of its location on the approach to Yaba from the Jibowu end of Lagos.
A relic of the old shelter stands behind the arched gate of the premises which now shelters no fewer than 40 buildings including several admission wards, the emergency ward, a laboratory complex, a bank building, and an administrative block, amongst others. These days, people walk in by themselves or are brought by family members or law enforcement agents. Adults, adolescents and children are patients at the hospital. It costs N4,000 to get tested, while emergency unit admission for 72 hours costs N25,000 – a cost beyond the national minimum wage.
The most affordable admission ward is the side ward which requires an initial deposit of N120,000 for two months while the private wards cost N250,000 monthly. Not everyone can afford their own mental health care, as paupers are often abandoned by family members who eventually find it tough caring for them. Archives show that paupers had their medicals paid for with grants from the colonial government but this is no longer the case.
According records from the hospital's Social Welfare Services Department, as at 2017, there were 22 paupers in the hospital, a reduction from 32 abandoned individuals in 2015. Some of their funerals are undertaken by the hospital. The journey of Yaba Psychiatric hospital started on 31 October 1907, as the Yaba Lunatic Asylum opened in Lagos, Nigeria, with unnamed eight female and six male patients. The newly launched Lunatic asylum policy, the Lunacy Ordinance, was passed in the southern province of Nigeria by the British colonial government and this gave birth to the Yaba and Calabar asylums.
Those considered idiots were lunatics under the Ordinance. All mentally ill individuals were kept off the streets and out of the way of 'normal' people. Dr Crispin Curtis Adeniyi-Jones (1876–1957) became the first Medical Director of the Yaba Asylum when the Ordinance was passed in 1906. He was born in Sierra Leone to Yoruba parents, trained in United Kingdom as a medical doctor.
By 17 June 1912, there were 18 females and 17 males, and until 1949 the hospital also functioned as a leper asylum, according to papers archived at the Wellcome Library in London, United Kingdom, after the store of the hospital's records was cleared out in 1962 by Dr Alexander Boroffka, a Senior Specialist Psychiatrist in charge of Yaba Mental Hospital (as it was renamed), from 1961 to 1966. By the 1950s, the first modern antipsychotics and antidepressants were in the market and then it was possible to treat some of those severe mental illnesses.
Psychiatric services moved from a place for holding people and sometimes throwing them in dungeons to actually treating them with medications. One of the wards at the hospital is built upon one of such underground prisons where patients were kept in those days.
The hospital was renamed the Federal Neuro-Psychiatric Hospital in 1967. With the introduction of Biological psychiatry, a pioneering collaborative research work between the hospital and the University Of Maryland School Of Medicine, Baltimore in the United States of America, doctors can now better diagnose mental conditions by testing body fluids like blood and urine.
Though only statistics from 1999 till date are available, the Health Records department documents that the commonest types of cases in order of highest number of diagnosis are Schizophrenia cases including Paranoid Schizophrenia which is the highest occurring, Schizo-affective and schizophrenia unspecified (62 percent); Mental and behavioural disorder due to cannabinoids (21 percent); Depression – both episodes and unspecified depression (7 percent) and Bipolar Affective Disorder including hypomanic, currently in remission, severe depression, mild/moderate depression, episode manic and psychotic symptoms (10 percent).
Records from the 2017 Annual Report show that there were 61,091 patients in attendance at the hospital – a 15 percent increase in the total number of people who were in attendance from 2016-2017. It also shows a 5 percent decrease in total number of follow-up patients from 34,536 in 2016 to 32,998. The total number of admissions increased by 13 percent from 867 admissions in 2016 to 981 admissions in 2017.
There were 475 persons discharged in 2016 and 209 were discharged the following year; showing a 56 percent decrease in the total number of discharges. The number of deaths reported also reduced by 40 percent from 5 in 2016 to 3 in 2017. The total number of drug abuse cases, went from 186 in 2016 to 193 in 2017.
The total number of attendees at the Adult Clinic located within the Oshodi Annex increased 9 percent from 3,690 to 4,036. There has been a 233 percent increase in the Child and Adolescent Clinic from 2,311 in 2016 to 5,392 in 2017. There is no actual maternal and newborn facility at the hospital. Consultant Psychologist and Psychiatrist, Dr Gbenga Owoeye, who heads the Clinical Services of the hospital, said doctors have not been able to deal well with mothers who experience postpartum depression or psychosis.
"The mothers should be in the same place their babies are taken care of. What we have to do is separate them. It has effect on the baby because it cannot breastfeed and the mother also won't know what happened to her baby", he said. In developing countries, about 15.6 pregnant women and 19.8 percent of women who have just given birth, experience a mental disorder, primarily depression; this information is based on surveys by the World Health Organisation.
During the launch of the new Family Planning logo in 2017, the United Nations Population Fund (UNFPA) in Nigeria revealed that 110 women die daily from complications which arise during childbirth. Could it be that this figure could greatly reduce by attending to women dealing better with postpartum mental concerns, so that they and their children can live? The current law regulating mental illness in Nigeria is the Lunacy Act of 1958.
According to an article by Chief Bolaji Ayorinde OFR, SAN, this legal framework is largely based on the repealed Mental Health Act 1959 of the United Kingdom, which has been replaced with the Mental Health Act 1988 ( United Kingdom) and the operative law now in the United Kingdom is the Mental Health Act 2007 with accompanying amendments. Is it time for Nigeria to transform its own mental health laws?
The World Health Organisation defines mental health as a state of well-being in which every individual realises his or her own potential, can cope with the normal stresses of life, can work productively and fruitfully and is able to make a contribution to his or her community.
The question arises if Nigerians are coping with the "normal" day-t0-day stresses of trying to eke out a living. When mental illness gets complicated, it leads to cognitive impairment, social problems and suicide.
During the Psychiatric Hospital's 110th anniversary Scientific Conference, the guest lecture titled "Remedy for Tangled Triad of Underdevelopment and Insecurity, centered on how can people develop and maintain sound mind amidst underdevelopment and insecurity? Putting in place basic necessities like constant electricity, sane roads and drivers, decent employment and respect for human dignity, should make a huge difference in helping people stay less paranoid in their pursuit of happiness.
This story is supported by Code For Africa.